3D printing for jigs & fixtures
Jigs and fixtures are invaluable tools in manufacturing. By 3D printing these tools, you can drastically reduce cost and improve lead times. You also release bandwidth of traditional manufacturing methods, such as CNC milling.


Cut lead times and reduce costs with 3D printed jigs & fixtures
Production tools such as jigs & fixtures have traditionally been machined, often in metal. Many tools are therefore heavy and ergonomically unfit. The manufacturing is a costly process and lead times can be several weeks especially when outsourced.
By 3D printing these production tools, you can drastically reduce cost, weight and lead times. In some cases, you will see a 90% weight and cost reduction. If you have access to an inhouse 3D printer, you can iterate as many times as you want, to refine your tools, or adapt to specific ergonomic needs.
Check out the best 3D printers for jigs & fixtures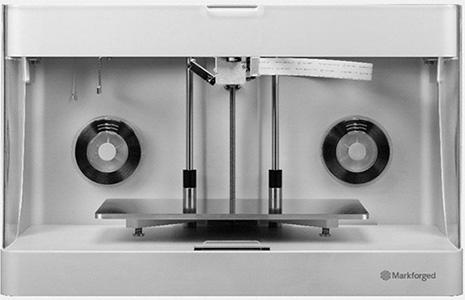 Markforged Mark Two
Flagship Continuous Fiber Composite 3D Printer, built to revolutionize your manufacturing operation.
Markforged X7
The turnkey industrial carbon fiber 3D printer for many types of functional parts.
HP MJF 5200
Unleash new growth and scale your production with HP's workhorse.
3D Systems Figure 4
Making 3D production real with scalable, modular high speed digital molding factory solutions
Learn more about 3D printing
Markforged has announced the addition of Smooth TPU 95A to its growing portfolio of materials. The new, rubber-like material provides manufacturers with an efficient way to easily

HP has announced the commercial availability of its Metal Jet S100 Solution. Accelerating innovative designs and products and digitally printing mass quantities of quality parts,

3D printers are becoming more important in our product development or manufacturing processes. Having access to great service and know-how guarantees maximum uptime and part
Sign up for our newsletter
News, articles and special offers to your inbox – also about education.
Download resources
The current state of 3D printing in the Nordics & Baltics is the only survey covering 3D printing in this region. Now in its second year, we look at how 3D printing is used, who is using it, what 3D printing technologies are used and what the barriers are for…

With increased complexity for engineered products and the need for faster production, manufacturers have choose between technologies. Let's discuss and compare two of the methods used to produce parts, while recognizing that each has its place, and can complement each other in the design and manufacturing workflow.

This buyer's guide serves as a source of information for engineers looking to add a 3D printer to their manufacturing process. The guide will concentrate on printers and printing technologies best suited for manufacturing applications.
Meet the team
Our team consists of passionate, curious and knowledgeable people who are driven to find the right solution for you.
Get in touch
Want to know more before you invest? Contact us to see what our powerful solutions can do for you.