For Whitepoint Optics life flows like a movie – the company designs and manufactures optical cine lenses for the motion picture industry.
The company sparked from a sidekick project with current Product manager Jussi Myllyniemi, explains Technical manager and co-founder of Whitepoint Optics, Timo Alatalkkari: "At first, our idea was to make a cine lens series for the parent company Whitepoint's production. The business area of our parent company was motion picture industry and post-production. We quickly realized that the product that we developed initially for a small project had a huge potential abroad. We began to accelerate the project heavily to the point where we were able to produce the first prototype of our future series of lenses in 2017. Peter Flinckenberg, a cinematographer with a Hollywood career, was one of our shareholders. He was filming a movie called Come Sunday for Netflix at that time. Jussi travelled to meet him in Atlanta where the scenes were shot, and he brought our cine lens for Peter to evaluate and test. Eventually, our lens was used to film the main scene in that movie, and we can state that our business started from this moment. We founded Whitepoint Optics in April 2017; I was the only designer at the beginning, but we hired another one during the same year. We now have a total of 20 employees, ten of which are lens technicians," Timo explains.
World-class motion picture
The offering of Whitepoint Optics consists of two different product families. They have their own WPO series of lenses which is based on the lens series of Carl Zeiss. It is designed for Hasselblad V camera which was originally developed for advertisement and clothing photo shoots – Vogue, just to mention one publication. Whitepoint Optics built their own product around this lens series; cine lenses are generally based on a raw glass out from which the eventual cine lens is designed and manufactured from. The other product family is the main product – rehousing lenses. "Rehousing means, in practice, that we take old cine lenses that are still use, and we construct them into a modern body or alter current still lenses for motion pictures. Basically, in rehousing, the product is re-designed and re-built so that the only original part of the lens is the raw glass. We aim for ultimate reliability and functionality in all our products, which means that our products need to be durable, reliable and ensure that the zooming mechanics don't get stuck. The motion picture production is expensive – we can easily calculate that one day of production is worth one million US dollars. We are aiming for zero tolerance in our products for a variety of reasons, not just the cost aspect," Timo explains.
"The cine lens is completely different compared to a still camera lens. The optics work in the same manner in both, but the cine lens includes positive errors and flares. Let us imagine a traditional Hollywood scene; a man rides towards the sunset in a Western movie. Without the flares in the lens, this scene would lose the magical moment."
The currently blooming business of Whitepoint Optics was basically created out of nothing. Today, they are among the top three competitors on the market. "We have reached our current position by purely, constantly developing our design and production processes. The design work needs to be agile as the series of production is short. The quantities in individually built models are relatively small, about 10-30 pieces per year. In optical equipment, standard bodies cannot be used – we need to design everything for a single product. Of course, we do have some general parts that fit with all our body types. The design needs to react fast to different changes," continues Timo.
From drawing to modelling – and into the cloud
Whitepoint Optics used AutoCAD as a previous design tool. The first challenge in switching the software was that the drawing environment changed to a design environment.
"Previously, we used AutoCAD and the design path was 3-4 months for an individual mechanic. With SOLIDWORKS, the design path is now only two weeks and it tells a lot about the nature of the software. With SOLIDWORKS, the ready-to-go tools enable a lot of things very fast although getting started required a small effort. After understanding how SOLIDWORKS works, the design work and innovation have become so much easier."
By switching to SOLIDWORKS, the phase of drawing by hand was totally left out from the design work – the software enabled starting the design from the scratch. In addition to SOLIDWORKS, Whitepoint Optics is using 3DEXPERIENCE platform. It is a browser-based solution enabling easy data storing and sharing. The cloud-based platform is accessible anywhere and practically on any device. Whitepoint Optics wanted one central location for storing data and the versatile tools of 3DEXPERIENCE convinced them to invest. In addition, the product development process is easy to monitor as every product related data including conversations are stored in the same location. This way important history data is safe.
"We are sharing our plans with subcontractors and assisting stages faster and more efficiently with 3DEXPERIENCE, and we are able to improve and boost the cooperation. One initial reason for choosing 3DEXPERIENCE was that it would help us in sharing the drawings to subcontractors – the solution is flexible and scalable, and it does not limit our own actions."
Their orders are increasing about 30% on a yearly basis, and because of that they need to constantly improve their own processes. As data sharing and management evolves from what it was previously, 3DEXPERIENCE gives Whitepoint Optics more flexibility in what they do.
In addition, the company is using 3D printer Figure 4 from 3D Systems. They utilize the printer mainly for testing the functionality of prototype parts and printing individual production parts, for example, light ports. "We also have printed new optical cells for prototype testing, and the workflow for idea development has shortened. "A part created by machining takes a week to complete, whereas one made in-house by 3D printing takes only a few hours," tells Timo.
PLM Group along the journey of building innovation
When AutoCAD was seen as insufficient design tool, it was time to look for a new software partner. "I have been both involved and cooperated with different software and service environments. When I compare my own experience with PLM Group, I can say that everything is working well at PLM Group. The company has a great working atmosphere which in turn reflects in their performance. PLM Group works agilely with projects and until now our cooperation has included implementations of SOLIDWORKS, our 3D printing environment, and also the 3DEXPERIENCE environment. I give straight A's from each project; implementation, timetables, given promises and keeping them have turned out as expected. I can't point any single mistake that PLM Group has made, and this in turn strengthens my own understanding of choosing the right partner," explains Timo.
Magical moments also in the future
If the business continues growing as in the past years, Whitepoint Optics keeps strengthening its market status among the world's top manufacturers of cine lenses. Their goal is to be the world's best, and to export quality products with a certain Finnish culture.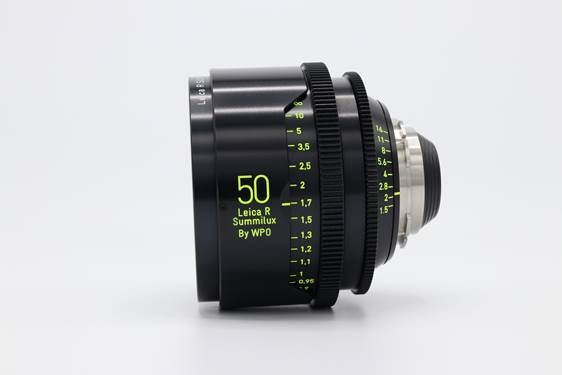 "Clearly, our products are world-class and our way of doing things has pleased our partners. Today we manufacture about 300 cine lenses each year, next year the number will be 450. Correctly managed and marketed, our company can double the annual production in the next five years. The right design tools support our growth further. In addition, we are the only Nordic company who manufactures these products for Hollywood – I would say that right now the future looks bright", ends Timo.